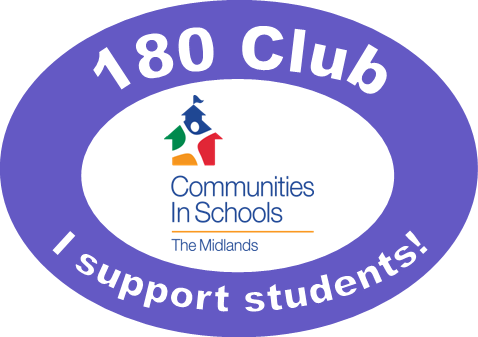 Join Now:
$15 per month recurring donation:
The 180 Club is an opportunity for individuals to support students who receive services from Communities In Schools of the Midlands. A school year lasts 180 days. It is our goal that every student who receives community-based, integrated services be supported by the 180 Club.
You can support the student who:
is having trouble in school and needs homework help from a tutor.
lives in a family who cannot afford to buy the school supplies they need to complete assignments.
has trouble attending school on a regular basis for a variety of personal, economic, or family problems.
has a parent who is unable to read and cannot understand information from the school or help with homework.
needs a safe place to do homework before or after school.
is hungry because their only meal may be the one they receive at school.
has special needs that have not been addressed.
needs additional support services to minimize behavioral problems.
What are the benefits?
A car magnet to display your support
Quarterly newsletter with success updates
Opportunities to celebrate student success
Knowing that you are making a real difference in the life of a local child.